We all know who Houdini was right?
He was a masterful magician who primarily specialized in escape artistry. He'd place himself into seemingly impossible traps and then not only determine if he could escape the trap, but also time how long it would take for him to escape.
Hence we have the famous trope: the Karma Houdini.
A Karma Houdini is a character does immoral acts and yet neither the in-story characters or the narrative itself ever brings any of it up. Or worst, this deplorable action is actually treated like a good thing that should be celebrated. It's often jarring to the audience and outright unpleasant to think about.
Especially when it's the hero who did these acts.
Because of the varied spectrem of individuals known as "heroes" and the situations that they're thrown into, the term that I'm going to use isn't one that I apply lightly. There are times when heroes have to make difficult decisions or need to choose the lesser of two evils because there is no third option. Sometimes heroes make huge mistakes and other people suffer for them, since heroes are only human and are capable of fallibility. As long as both the characters and the story acknowledge their decisions and show fair and balanced consequences for said choices then it can serve to help the hero and others involved learn and grow from the situation.
Commander Shepard had to choose between Ashley and Kaiden on Virmire because the circumstance wouldn't allow him to save both. He made his choice and this prepared him for the sacrifices that would need to be made in the fight against Sovereign and eventually the entire Reaper horde.
The Rebels likely killed millions of neutral contractors when they blew up the second death star and thousands of prisoners. But they had to defeat a greater evil and blowing up the death star was literally the only way that they could have saved the galaxy.
Boromir attempted to steal the ring from Frodo and drove the young hobbit to truly flee from the Fellowship because of the Ring's influence. Out of guilt for having fallen under the ring's spell, Boromir valiantly battles to defend Frodo's cousins, Merry and Pippin and his death against the Uruks imprints heavily on the two hobbits who become instrumental in the War of the Ring and Aragorn who takes up his lost heritage partially out of a promise he made to a dying Boromir.
Ed and Al were heavily messed up by their attempt to revive their mother, but this inspired them to find a way to reclaim Al's body and eventually to save the world. In the end, Ed does get back Al's body by surrendering his ability to use Alchemy and the notion that Alchemy makes someone all-powerful.
These characters on the other hand are...rewarded for their immoral behavior and are freed from any responsibility for their actions. This makes it worst because we're supposed to relate to and like these characters. They're the protagonists, the good guys and well...based on their actions, you'd think they were just as evil as the people that they're supposed to be fighting.
And here's the worst of them. My personal Top 12 Heroic Karma Houdini's:
_________________________________________________________________________________________
12. The Soggy-bottom Boys (O'Brother Where Art Thou)
This movie is hilarious.
One of the things about it that always cracks me up are the exploits of the film's protagonists: Everett, Delmar and Pete.
They get away with so much crap that it's ridiculous.
Everett lies to Delmar and Pete about a bank car he hid so that the three of them can escape the chain-gang and become fugitives. Over the course of their journey, they steal at least two cars; act as accomplices in two armed assaults and an armed robbery; steal from Pete's kin; impersonate a musical band to scam a blind music manager; break back into prison to get Pete when he was captured; and it turns out that Everett lied to his buds so that he could get back to his wife.
Everett lied to two felons who were weeks from being released after serving their time and they broke out based on a lie. Which means that when caught, these boys will have fifty years added to their sentence and will be 80 before they're released again. Yet, they go along with Everett's strange plan of impersonating musicians at a campaign dinner because it'll get him back with his wife.
Why?
Well...it all works out right? Their presence exposes the leading candidate for Governor as a Klansman and when the man tries to have the Soggy-Bottom Boys arrested, the crowd hauls him out because they're all fans of the boy's music. The governor incumbant wins over the crowd by pardoning the trio, makes them into state celebrities, Everett's wife wants to get back with him for some reason, and when a posse of lawmen try to hang the Trio+Tommy anyway, a flood literally drops on them and saves our heroes.
Not to say that they're bad characters and they did save Tommy from the KKK and desecrated a fiery cross by dropping it on a bunch of pathetic racist fools who wear sheets over their heads cause they's scared of black folk. But...does this warrant a complete turn around of their fortunes, especially with the livestock that they were accomplices in shooting? Those poor upright citizens who found their cars gone without a trace? That Music Manager who was scammed without even knowing it?
I'm not supposed to take it seriously because it is a Cohen comedy...but damn!
11.
Dr. Katherine Halsey (Halo)
She's pretty low on the list, but still worth mentioning.
The architect of the Spartan Program, Dr. Halsey was the one responsible for the upbringing and training of super soldiers like the Master Chief. Said super soldiers would go on to spearhead the war against the Covenant and prevent mankind from being completely slammed out of the war. In fact, Chief goes on to not only defeat the Covenant, but he also saves the galaxy three times from the Flood and saves humanity again from a vindictive forerunner.
It's more about the methods.
You see, she had agents abduct six year old children from their homes so that they could be trained as Spartans. Then the kids were replaced with flash clones who died prematurely of natural causes so that the parents wouldn't know to sue the UNSC for child abduction and training children as soldiers. Not to mention that the Spartans weren't initially created to fight the Covenant, but to quell rebelling pirates and colonial rebellions on the far reaches of UNSC frontier territory.
On one hand, Halsey's actions clearly saved humanity. On the other, they were done with immoral practices for a situation that can't be defined as necessarily right. Plus, she's completely unapologetic for her actions and believes that the Spartans are humanity's next step in evolution, their destiny. To achieve this, she ripped hundreds of children from their parents, had the parents believe that their children were dead due to flash clones and less than a hundred of the children actually survived the augmentations and training to join the field as Spartans.
To be fair, she does how genuine concern for the well-being of her spartans as seen in her interactions with Jorge and Chief. Plus, she's currently wanted as a fugitive of the UNSC. But her status as a fugitive isn't necessarily a consequence of her actions, but rather a political ploy because she knows too much and the UNSC brass wants to keep her quiet. I don't hate her, it's simply that her series glances over her atrocity because "The ends justify the means."
Even if it's true, it's still wrong.
10.
Optimus Prime (Transformers)
This is the same autobot leader who professed that, "Freedom is the right of all Sentient beings."
Yet...he tends to exclude decepticons from that statement.
How? Simple, he has a great fascination with outright slaughtering his fellow cybertronians once they get a decepticon tattoo. When he fights them, he makes them suffer before violently killing them and dropping the corpse like it was a trash bag. You'd think that the enlightened Optimus Prime would only fight the decepticon until they can't fight anymore and then offer them mercy and even a chance to join him. For a guy who hates war so much, he's downright an ace at it...he almost enjoys it!
To clarify, I'm going mainly by the Bay Films, though he has some ruthless moments in the original cartoon and other incarnations. He's especially violent in the Bay Films, most obviously in how he dispatches a decepticon in the opening of Revenge of the Fallen. He disables and immobilizes the decepticon and then confronts the damaged transformer. Okay...I guess he's going to capture the decepticon and interrogate him. Maybe ask him why he's fighting and educate him on why he's on the wrong side-
Or shoot him in the face.
During the Autobot counterattack in the Third Movie, Optimus disables a Decepticon star-fighter to save Sam and Epps. Said star fighter still has a pilot that's struggling to get out and is stuck. Perhaps Optimus can implore the decepticon to turn away from his savagery or else capture him and put somewhere that he cannot regroup with the decepticons-
He allows the Wreckers to violently rip apart the trapped pilot and declares that he would kill all decepticons.
By the end of the Third Movie, the decepticons are defeated and Cybertron is likely destroyed. Megatron offers a truce between decepticons and autobots and stands by waiting for Optimus' response. Finally! A chance for autobots and decepticons to formally end their blood war and reunite as brothers once more! Perhaps they can pool their resources together into finding a new home or another source of energon to create another home-
Optimus axes Megatron's face and pries off his head and uses it to pull out Megatron's spine.
Soon afterwards, Optimus' mentor and predecessor remorses over the results of his betrayal. He mourns the chance to revive Cybertron and says that all he wanted was for the transformers to have their home back. Despite believing that he had to betray Optimus because of his uncompromising beliefs, he clearly seems to regret his decision. Hmm...Sentinel is literally on his knees begging for mercy in remorse for his actions? Perhaps the enlightened Optimus Prime can simply capture his old mentor and put him on trial for his actions. Or he can pardon Sentinel and have send the old Prime into exile where he can think about his sins and work to repent of the blood that is on his hands-
Optimus wastes him with Megatron's gun and double taps the face to be safe.
And yes, I know the theme song says, "Autobots wage their battle to destroy the evil forces of the decepticons." But I never thought Optimus would take it so literally or violently!
"Give me your face!"
At least this explains his face fetish.
9. Captain Jean-Luc Picard (Star Trek)
Normally seen as the higher cultured and more regulated alternative to the free-spirited and loose James T. Kirk, what a lot of Star Trek fans overlook is that he has demonstrated a double-standard on the rights of colonists.
During the NG run, he encounters at least two events that require a forced relocation of an indigenous population for political reasons, one of which involved native Americans who were actually Federation citizens. In both instances, Picard did attempt to negotiate for another method, but as time ran out, he choose to follow his orders to minimize loss of life. When Weasley Crusher defied Picard on one of these instances, the captain had this to say to the cadet.
"Inexcusible! You disobeyed the orders of a superior officer. Jeopardized the lives of the entire away team. And made an already tense situation worse!"
Come Star Trek: Insurrection and he does a complete 360 on this situation.
As I'd mentioned in my SCV Insight,
Picard comes across a race of humanoid aliens known as the Ba'ku and befriends them. However, Picard's superiors want the Ba'ku off the planet so that they can freely study it's miraculous regenerative energies that allow people to live hundreds of years without aging. This is especially essential because the Federation is in the middle of a war with an Empire called the Dominion where billions of lives are at stake.
The Ba'ku are squatters on Federation property, they don't own the planet, the Federation does; and are actively blocking any attempt at negotiation because of their stance against technology. So by choosing to disobey orders, turn against his career and help the Ba'ku, he's dooming billions to die in the war that waging as they speak. Sure you can say that it was actually a conspiracy by the So'na who are actually exiled Ba'ku who have aged badly, but Star Trek has a certain quote on situations like this.
"The needs of the many outweigh the needs of the few."
Picard clearly changed between the tv series and the movie and for the worst. It's true that he's made his fair share of mistakes, just take a look at First Contact. But he was also upright enough to acknowledge and make amends for his flaws. Here? He doesn't think he's making a mistake and the story rewards him for choosing 600 squatters over billions of people in need of enhanced medical technology...
Kirk may like Green women, but at least his consistent about it.
8.
Dr. Manhattan (Watchmen)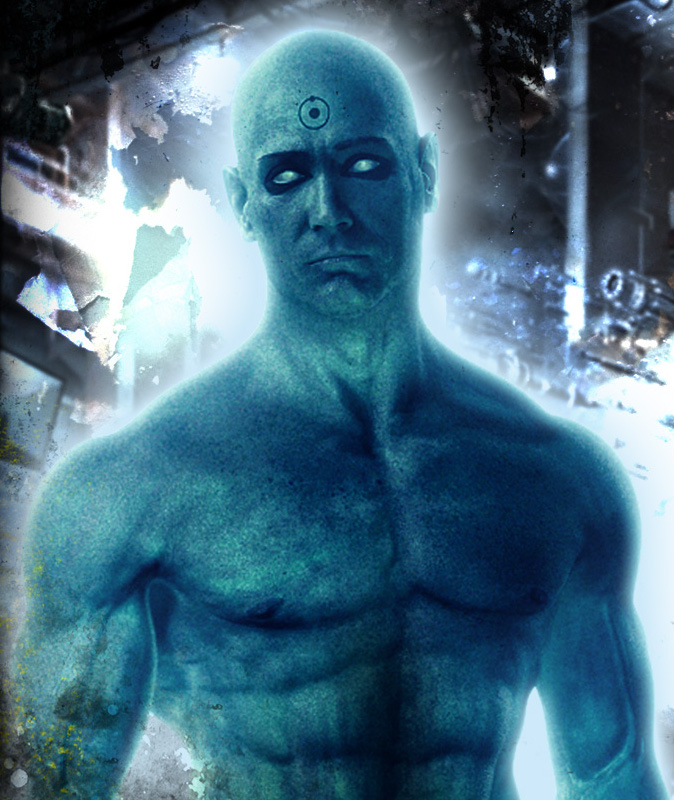 Relatively low on the list because the problems of this character are concurrent with Alan Moore's intention.
But out of everyone in the cast, Manhattan is the character that I just don't like. And compared to the Comedian and Ozymandias...that's saying something.
First off, he completely and blatantly dumps his first girlfriend for Silk Spectre just because she's gotten older. I'm not making this up, he admits it during his monologue and for cheating on her with Silk simply because his current woman was getting older. Ha! It's not like that won't eventually happen with Spectre...
He also becomes increasingly distant from the world around him and actually fed up with the human condition. He's pissed at people for being mortal, flawed and invulnerable beings. To the point where he just teleports to Mars and builds a giant glass clock tower because it looked cool I guess...
But the worst thing about this man is his inaction.
He could've done a thousand different things to keep the Comedian from killing that pregnant woman and instead does nothing but watch. He could have ended the Nuclear War before it started at any point by finding every nuke in the world and teleporting them into another galaxy or break them down into harmless particles. Instead, he tinkers with useless crap until he gets bored with humanity.
When he finally does return after making his girlfriend cry, he's too late to stop Ozymandias' plan and kills Rorshach to protect the false peace that Adrian's plan has created. His job done, he then teleports to another galaxy and leaves behind Earth like a triumphant hero.
Watchman fans will argue that Manhattan's nature left no room, but for him to disconnect with his own humanity and all of his actions are simply him following that mentality. Still that shouldn't excuse how the entire plot of Watchman would've been avoided if he'd done the logical course of action and got rid of every nuke in the world. That wouldn't change human nature true...but it would keep us from making the whole planet into a grave for the fireflies. Then Adrian wouldn't need his plan and all of the people who died horribly wouldn't have needed to die. Adrian wouldn't need to kill millions to save billions because Manhattan got off of his blue ass and did something.
Dr. Manhattan...he fiddled as New York burned and then killed an actual hero to maintain a false peace...
Worst Superhero Ever!
7. Jake Sully (Avatar)
I'm not jumping on the Avatar hate-bandwagon as I did like the movie.
But in hindsight, the main character isn't exactly a role model.
An ex-marine was confined to a wheelchair due to injuries, Jake Sully was given a rare opportunity to help the flailing humanity when his twin brother died and Jake took his place in a scientific experiment. Said-experiment allowed Jake to connect his mind with a genetically alien known as a na'vi and use this "avatar" to study and connect with the na'vi people. The original intent of this operation was for Jake to understand the culture of the Na'vi in order to broker an agreement between them and humans regarding the mining of resources on the Na'vi's homeworld of Pandora.
But the evil humans burnt down home-tree, Jake united the Na'vi tribes and Pandora wildlife to defeat the sky people and force them to leave Pandora forever. Then Jake forsakes his human body and permanently transfers his mind/soul into his avatar. So what's the problem? It's a happy ending!
Not for humanity.
The entire reason for the Avatar program was so that Jake and others involved could serve as ambassadors from humanity to the na'vi. Because na'vi lands are rich with a resource that is currently vital to Earth's survival. The unobtanium is the only resource that can fuel intersteller travel which is the only way to find resources to feed the agriculture-barren Earth. The RDA weren't the nicest of people, but they were performing a clearly necessary service which the Earth needed and Quaritch was even willing to arrange for Jake to get back usage of his real legs in exchange for info. in case things came to war.
But no. Jake spits in the face of his fellow man and betrays his organization because he got some local tail. He literally admits to the Na'vi princess that falling in love with her was the reason that he decided to go native. So...Neytiri's thighs were so magnificent to Jake that he completely forgot about the billions of humans whose fate are dependent on him brokering peace between Na'vi and humans.
He was brought to Pandora for one job: Gain the trust of and negotiate with the Na'vi for a settlement on mining a vital resource.
Jake instead tames a lizard dragon, declares all out war on the human settlement, kicks them off the planet and dooms earth to be cut off from it's only life-link.
I don't know how...but he found a way to f$#k it up.
6. Jedi Knights of the Old Republic (Star Wars)
They're supposed to be guardians of peace and justice, but what we're shown does not match Ben Kenobi's nostalgic description. They are involved in infant/child indoctrination and brainwashing; Will leave neutral worlds to suffer for purely political reasons; Leave distinguished padawans to suffer a kangaroo court, again for political reasons; Reward betrayal and punish heroism and loyalty to the jedi code; Formed an alliance with a despotic gang overlord involved in slavery, drug dealing, bounty hunting, assassination, and more; Have no qualms with using an illegally created and unethically utilized clone army as meatshields; Are too stupid/weak to sense the Dark Lord of the Sith when he's standing five feet in front of you; and their overall treatment of Anakin makes them just as responsible for the Rise of the Empire as Jar-Jar Binks.
That's right...the Jedi Order is as responsible for the Destruction of Alderaan as Jar-Jar.
Not much more to say except for this: Guardians of Peace and Justice My Ass.
5. Tsunade (Naruto)
I mentioned briefly how Tsunade becoming the Fifth Hokage really bothered me in my Insight of Naruto. It doesn't necessarily make her a bad character...but in hindsight, I heavily question how she was qualified to become Fifth Hokage apart from the notion that literally no one else was able to take the job.
Because Tsunade is practically a deserter.
In the course of the Second Ninja War, Tsunade lost her younger brother and her lover to the horrors of that war. As a result of her grief, she grew a heavy disdain for the philosophy of the Will of Fire and abandoned Konoha taking her lover's niece as her apprentice. For the twenty-plus years that she was on the run, Tsunade became a heavy drinker, a terrible gambler who wasted her inheritance (where else did she get that money?) by creating a gambling debt large enough to buy an entire nation, and never once even considered returning home despite the horrible events where her help would've clearly made a difference(The Third Ninja War, Kyubi Incident, The village's treatment of Naruto, Uchiha massacre, Sand-Sound Invasion).
And yet, she was Jiraiya's first choice as the Fifth Hokage.
Of course, I'll hear fans state that Naruto's bet and his talk no jutsu inspired Tsunade break out of the shell that she'd created out of grief and despair. Fine! If she wants to come back and help out Konoha, great! She's an excellent medical master and an experience kunoichi, Konoha can greatly benefit from her talents. A pragmatic shinobi doesn't turn away help when it's offered and I wouldn't refuse Tsunade's services.
But as Hokage? Hell no!
As proof, she only promotes one genin as per the post-humous recommendation of her predecessor and completely ignores the genin who not only mastered an A-rank technique that only two people have ever learned, but also managed to recruit her as hokage in the first place. Yet Naruto is still a genin. Glad to see how she shows her gratitude...especially by sending a group of inexperienced kids against a group of S-class criminals and is disappointed when they failed.
And all while everyone completely forgets that their fifth hokage...was a long-term deserter who left for completely selfish reasons.
The death of her brother and her lover were sad, I get it. But the Third Hokage lost his wife and likely his older child and he served Konoha unto his death. Itachi had to demonize himself to preserve the honor of his rebellious clan and perform his duty for the village and again...remained loyal to Konoha till death and beyond. Naruto lost his parents as a baby and has been shat on by the village ever since, but you never saw him quit. Kakashi has seen his father, his mother, his sensei, his two initial squadmates and countless more comrades and friends die in the field of battle and he never deserted!
It's not that she's a bad character, it's just that the story and setting blatantly glance over what should be a long black mark against her credentials and grants her a position that she neither earned nor is really best suited for.
4. Misato Katsuragi (Neon Genesis Evangelion)
Worst Big Sister ever.
When I think about Misato, I'm pretty conflicted on her...granted, I was never really the biggest fan. At the same time, I can see the purpose behind creating her character and I can appreciate creating flawed multi-layered mentors.
That doesn't excuse Misato however.
Even though she knows that Shinji had no idea about Unit 01 until he was brought to Nerv, she still joins in the emotional blackmail that forces the kid onto his psychological suicide. She acts warm and friendly, yet also keeps herself distant despite wearing provocative clothing around a kid whose fifteen years younger than her. After the fight with the fifth angel, she bitches out Shinji for disobeying her orders and for not liking his job as a conscripted child soldier. When he's brought in for running away, Misato then tells Shinji to leave even though he was willing to perform a role that he didn't like. She never even tries to really confide in Shinji and understand his angle of the whole situation or piloting the mechanized demon. She just makes assumptions and expects Shinji to go along with them.
When Asuka shows up, Misato does nothing when Asuka bullies Shinji around, kicks him out of his room and flaunts her title as the best pilot even though that little bitch will never kill an angel on her own...unlike Shinji whose solo kill count includes seven...seven angels out of fifteen! But no, Misato lets Asuka hound Shinji with every step as if giving her silent permission.
Then there's her real motives for things. At one point, she outright admits that she's using the Evas as tools of vengeance against the angels for killing her father. That's right, she's using emotionally manipulated and conscripted teens as personal tools of revenge! Saving humanity is only a bonus in all honesty. But this is really confusing because she dumped Kaji because he reminded her of her father...
As Shinji's mental state degrades more and more, Misato becomes colder and colder. Eventually, she resorts to yelling and screaming to get the unresponsive kid on his feet...yeah, she finally decides to do her job and not only is it too little and too late...but she's doing it wrong! You don't a swing a bat at a cracked window and get pissed at the glass for breaking. You need to remove the window from the frame, apply glue to the cracks and wait until the integrity of the glass stabilizes.
But what does Misato do to motivate Shinji into saving the world? Clean out his tonsils.
Some will defend the character by saying that Misato's conflicted feelings impaired her ability to look after Shinji. You could blame Anno for not allowing the poor girl to be given any resolution, but that kiss in the movie probably didn't help Shinji in the state he was in. When you're trying to help someone with their issues, you can't drag them down with your own, that doesn't help anyone and you end up in need of help yourself.
If this was all that Misato did wrong, then she'd be lower on the list. But then we got the explosive collar from Rebuild 3.0.
I could write an entire article on how everything that went wrong in that movie can be directly traced back to Misato's treatment of Shinji in that movie. But I'll be brief...Misato is completely unjustified in her treatment and attitude towards Shinji and misblames him for events that she's just as responsible for if not even more so. If she had an iota of common sense then Shinji wouldn't have ran away with Seele Rei, gotten into Unit 13, pulled the spears and accidently cause 4th Impact.
True, Shinji does need therapy. But if this bitch was my guardian and commanding officer, I probably would too.
3.
Nina Purpleton (Gundam 0083: Stardust Memory)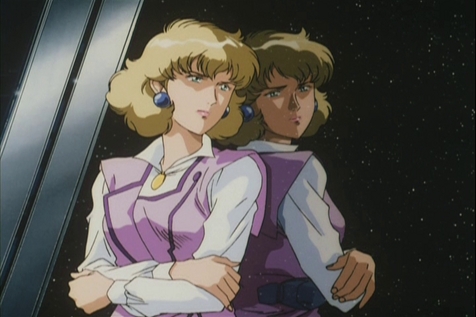 Out of everyone on this list, I honestly hate her the most.
By the end of her OVA she is completely guilty of numerous offenses and crimes and yet never suffers any repercussion for her actions. She designs a gundam which is stolen and used by Gato (her ex) to nuke the entire Federation fleet as part of a revenge scheme by a Zeon remnant faction called the Delax Fleet. Yet she's given free reign aboard a Federation vessel carrying the other gundam she designed and while there constantly bitched out and emotionally toyed with Kou Uraki, the pilot of said-gundam while he was already under a huge amount of stress.
I'd be able to excuse this because she had no way of knowing that Zeon had planned to infiltrate and steal her gundam and it's really helpful for repairs when the original designer is working with the maintenance crew. Plus, she does eventually warm up to Kou and even fall in love with him. No harm done right?
Then comes the final episode of the OVA and Nina takes a random 360 turn for the worst. Kou is inches away from stopping Gato from succeeding in dropping a colony on Earth when Nina takes out a gun and shoots at him. During the resulting stand-off, Gato succeeds in ensuring that the colony drop cannot be stopped and is helped back to his mobile armor by Nina...leaving Kou even more distraught and defeated. She then boards a Zeon vessel and is seen begging the crew to save Gato while he and the remains of his fleet are being gunned down by Federation reinforcements.
She's crying for a man who just killed millions of people.
But you know the messed up thing about all of this? She gets off scot-free! The Feds never put her on trial for her involvement in the "Stardust Incident" and she's seen smiling at Kou in the last scene of the OVA.
This woman's tally is the following: Accomplice to premeditated mass murder; Broke a Federation treaty by designing a gundam with a nuclear beam cannon; Committed treason against Kou and the crew of the Albion; and High treason against the Federation and the Earth.
Kou and the personnel of the Albion did everything in their power to stop Delaz's plan. But all of their efforts were brought to nothing thanks to this little bitch! While everyone else tried to save the lives of millions of people and were all bent over and whipped tender by the Titans in one form or another, Nina is freed from any responsibility for her actions. What makes it worst is that smile she gives to Kou in the final scene, as if that little incident that happened a little over a year ago was ancient history.
I hope Kou punched her when the scene faded to black. I would.
2. Albus Dumbledore (Harry Potter)
I don't care what my fellow HP fans will say, but leaving Harry with the Dursleys and not telling him that he's a horcrux are inexcusable.
Say all of the stuff that you can about "ends justifying the means" or "there was no other way". Dumbledore's actions are horrid.
The books weren't even too clear on how the blood wards work, but apparently Dumbledore was the one who cast them with Lily Potter's blood so that Voldemort wouldn't be able to touch Harry as long as he was in the warded home. Okay...but why did Harry have to be left with the Dursleys? Dumbledore knew that Harry would be miserable and he knew that the Dursleys would mistreat and abuse him. But he left Harry with those horrible people anyway and only assigned one agent to look after Harry...an agent who Harry would never even know until his Fifth year.
So Dumbledore is pretty much an accomplice to child abuse and neglect.
How come the blood wards couldn't be cast on another anonymous household? Why couldn't Dumbledore entrust Harry to another family that wouldn't treat him like absolute shit? There is literally a list of people who would make better guardians than the Dursleys and the wise headmaster of Hogwarts insists on the Dursleys. Blood wards or not, I'd sooner leave Harry with the Malfoys than with the Dursleys!
But then we get to the Horcrux situation.
Not only did Dumbledore not tell Harry about the prophecy until after the only loving family that he's ever had was killed saving him, but Harry had to look through a posthumous note within Snape's memories to find out about the truth of his connection to Voldemort. So...why didn't Dumbledore tell Harry during his fifth or sixth years? Isn't it cruel to string Harry along with only half of the knowledge of his destiny with a "false" hope that he'd live beyond his war with Voldemort? Doesn't Harry deserve to be trusted with the truth?
And I've heard a lot of counters that I'll address now:
Harry would've lost all will to fight, he needed to have a drive to survive.
Actually, Harry came to grips with his mortality a long time ago. How many times has he stared death in the face during his first four years at Hogwarts alone? Yet, he still fought through for the sake of his friends and loved ones. Remember during the second Twi-wizard tournament when he refused to leave the other hostages until their champions got there and saved Fleu's sister even though he nearly drowned? Don't insult Harry by saying he'd pussy out.
Dumbledore meant to, but he just never had a chance.
Why? He was privately tutoring Harry throughout the sixth year! That's over a dozen times when he could have told Harry, especially after they found out about the horcruxes! What was the old bastard waiting for?
It was cruel, but it was the only way and it worked.
Actually....the only reason that Dumbledore's plan even worked was sheer dumb luck. If things had gone according to Dumbledore's plan, then Voldemort would've ended up getting the Elder Wand from Snape and everyone would still be screwed. The only reason that Harry didn't die when Voldemort "killed" him was because Harry had the dumb luck of having disarmed Draco earlier in the story and Draco had disarmed Dumbledore before his death which technically made Draco the master of the elder wand and Harry took the wand's ownership from Draco.
Dumbledore isn't perfect, he admits to making mistakes.
No one this list is perfect and true, he does apologize for not telling Harry about the prophecy in year five and for putting him at a distance. But where's his apology for Harry's screwed up childhood? Or for not telling him about the horcrux secret?
The King's crossing scene cleared things up between them. Plus Dumbledore knew that Harry would live.
Okay, then again why didn't Dumbledore tell Harry sooner? At best, Dumbledore theorized that when Harry's blood was used in Voldemort's resurrection ritual, it tied them together and extended the protection of Lily's sacrifice. If that's the case, then how come Harry could still be hurt by Voldy's Crucio spell? Anyway, Dumbledore still should have told Harry the truth about him being a horcrux, even if there was a high probability that Harry would actually live. Instead, Dumbledore treated Harry like a puppet that only danced when it was given a command.
And that's the biggest problem with Dumbledore...the story celebrates how he took a young boy and carefully manipulated and planned for how the kid's life would proceed without Harry's permission or input. Harry didn't stay with the Dursley's until his 17th birthday because he wanted to, it was because he had to. Harry didn't learn about the prophecy until his 5th year because Dumbledore decided this for him. Harry didn't find out about him being the last horcrux until after Dumbledore died, because that's how he had arranged it.
What's worse? Harry names one of his kid's after the man who had been manipulating him since he was a baby.
Brilliant!
But wait! There's someone whose a worst heroic karma houdini then Dumbledore? Who could it possibly be?
You'll find out right now!
The Number One Heroic Karma Houdini is....
Son Goku (Dragon Ball)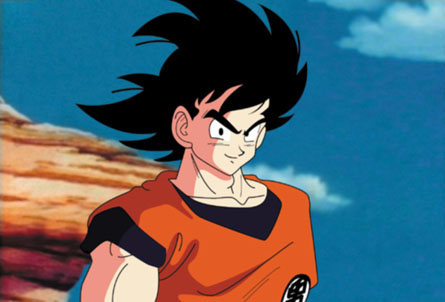 He's a bad father.
There, I've summarized Goku's issues in three words and a noun.
But before defenders try to break down my door and tear me apart, I'm going to make my stance perfectly clear.
Goku is a great hero, he's a strong defender of the helpless and a rightly feared enemy of the cruel and the unjust. I'm not saying that any of this is necessarily false. He's not on this list just because he isn't the perfect father.
It's because he never tries to do better and actually gets worst.
Goku has been absent from his family for very long extended amounts of time. Sometimes this simply wasn't his fault and something happened beyond his control that kept him away. But most of the time, he wasn't there for his family due to personal reasons and choices.
Starting from the very beginning of Z let's count this down:
Dying in the fight against Raditz; not his fault.
Being hospitalized by Vegeta and leaving Gohan to go off to Namek first; not his fault.
Arriving late to Namek; not his fault.
Being initially separated from the gang to fight Frieza; a necessary sacrifice.
Staying on planet Yardrat instead of being wished back to Earth and not returning for two years; completely his fault. Some will say that Goku had to stay in order to master the instant transmission technique. But considering Goku's amazing learning rate as established since the original Dragonball, he probably would've mastered it enough to simply teleport at any given time during those two years. But no, he takes the scenic route which even concerned Mirai Trunks enough to step in and chop up Frieza before someone died.
The kid from the future only knew two of the Z Fighters and he showed more apparent concern then Goku.
Spending much of the next 3 years training; the androids were coming.
Being bedridden by a heart virus; he could've cut down on the bacon, but we won't hold it against him.
Punching Gohan when he wanted to fly down and help Piccolo against Cell; Yes. As experienced and skilled of a martial artist as Goku is, he could have restrained his son without resorting to hitting his own child. Children should be disciplined when they misbehave, this is true. Gohan technically wasn't misbehaving, he was trying to do something that he was taught was right: help your friends when they're in danger. But no, Goku punches Gohan and doesn't even apologize for it. It becomes even worst when Goku teleports down to save Piccolo and Tien anyway!
So...Gohan was supposed to do as Goku said and not as he acted? That's pretty hypocritical.
Giving up against Cell; completely his fault. Him and Cell were roughly tied throughout the whole fight and Cell only started gaining an advantage because he regenerated from being blown in half. Plus, it seems that Goku forgot about a little technique that he has...what was it called again...the Kaio-ken? Yeah! Why didn't he use the Kaio-ken with his super saiyan form and completely dominated Cell? Remember that he spent his time in the Time Chamber becoming acclimated to being a Super Saiyan so that it was more refined and natural therefore saving energy and severely reducing the strain on the body. He'd also mastered the Kaio-ken a long time ago during his trip to Namek so he could use it without tearing his body apart like he did in the Saiyan Saga.
So...Full-power Super Saiyan = Perfect Form Cell. Therefore, Kaioken x2+FP Super Saiyan >>>>> Perfect Form Cell.
Entrusting the fate of Earth into the hands of his ten year old son; the f$%k? Gohan was just a kid and didn't have a natural inclination towards fighting like Goku did. Even if Goku knew about Gohan's hidden power, he should've prepared Gohan for the real possibility.
Giving Cell as senzu bean; again...the f$#k? Did Goku take a rank in stupid and forget that Cell has saiyan blood? Which means that he'll get stronger after healing from heavy injuries. So great job Goku! You just gave the guy whose fighting your son a free power boost!
Dying in Cell's Kamikaze attack; yeah...overall. If Goku had just cut to business instead of saying goodbye to everyone then he could've teleported Cell to King Kai's planet and then teleported Kai and his crew to King Yama's palace instead of killing off a kai in a failed attempt to kill Cell.
His absence between the Cell and Buu sagas; Yes. And I know that defenders will argue that Goku was only trying to protect the Earth from people who always want to kill him and the earth with him. Except that this was a dub-exclusive edit. The real reason that Goku stayed dead when he could've been brought back was because he wanted to stay in Other World to train.
That's right! He abandons his young adolescent son and pregnant wife to fend for themselves so he can train with dead people. Seeing a pattern here?
Yelling at Goten and Trunks for mourning the loss of their father-figures; Yes. True, they needed to start training to battle Majin Buu and learn the Fusion dance, but he didn't need to be so damned harsh with them. They haven't realized that death has no consequence in the Dragon Ball universe and will therefore mourn like every other person with a concept and knowledge of death. In fact, why didn't Goku just assure them that they could use the Earth or Namek dragonballs to wish back Gohan and Vegeta? Isn't that much better than balling them out for crying?
This is the best way to sum up this scene:
"Trunks you little pussy! Stop whining about your dead beloved father and man up! I killed my grandpa, do you see me crying like a bitch?
"I want Gohan! I want my brother!"
"
Wipe those tears, Goten! How dare you mourn the death of your older brother who was the closest thing to a father that you'd ever had?"
*The seven and eight year old kids continue to cry*
"Stop that! Stop your crying before I give you something to cry about! Bunch of spineless pussies! You both make me sick!"
Okay, that's not really how it went, but it might as well have with Goku's tone.
Not killing off Fat Buu while fighting him as a Super Saiyan 3; Yes. Goku admits to Piccolo that he could've killed Buu during their skirmish, but wanted to give Goten and Trunks a chance to inherit the mantle of Earth's protectors. Remember that Goku only stayed dead due to choice rather then him having no choice but to stay dead, so by all accounts Goku, you technically should be the protector of Earth. It's pretty arrogant for Goku to just assume he can toss the mantle of Protector to two kids and then go chill with his buddies in the Other World.
Don't worry though! It's not like this won't completely backfire and leave everyone on Earth, his friends and family completely screwed? Right?
I mean...it's not we can hold him accountable for Super Buu killing, eating or absorbing nearly everyone on the planet before Goku finally returns to life...killing off another Kai in the process...nah! None of that of that is his fault!
I'm surprised that the Kai's even like him...he's been directly responsible for the deaths of two of them!
Leaving his sons, Trunks and Piccolo to die when Kid Buu blew up Earth; Yes. This man could blaze across continents as a little kid and yet he couldn't save his own children with a technique that allows you instantly teleport? He only had enough time to save Dende, a puppy and Dan Hibiki's father? Plus, why was he flying away from them?
See the pattern yet?
Goku was never the idea family man to begin with given his upbringing, he didn't even know what wedding was when he was engaged to Chi-chi as a kid. But as the series progresses, this great hero becomes worst and worst of a father to where it becomes villainous. What he does to his family can be labeled under emotional and sometimes even physical abuse and yet no one ever calls Goku out on his bullshit.
There's actually a DBZ fanfic out named "No More Forgiveness" where Gohan permanently cuts ties with Goku after he leaves with Uub at the end of Z. It's a great story despite the author forgetting about Buu's healing ability and therefore a certain tragedy involving Videl seems outright contrived for dramatic purposes. It may come off as a hate fic towards Goku, but considering the crap that he's pulled on Gohan throughout the series, I'm surprised that something like what happened in this fic didn't happen.
Mistakes only better someone when they learn from the mistakes and do better next time. But Goku constantly messes up with his family and each mess up gets worst and worst until his mistakes result in fatal consequences for his friends and family. I'd put down Goku ditching the crew to go off and train with Uub, but that'd be a drop in the bucket compared the other stuff that's already listed.
Whereas we could pardon the Soggy-Bottom Boys since they're the stars of a Cohen brothers comedy; Halsey's vindicated because her actions did save humanity and the galaxy; Optimus was hardened by a horrific war and Michael Bay gave him a hard-on for the faces of his enemies; Manhattan made a difficult choice in an impossible situation; Tsunade was the only one for the job; Misato was too damaged to do better or that Dumbledore committed a lesser vice to defeat a greater evil...Goku has no such possible excuse for his actions.
So how can we still call Goku a great hero despite being such an increasingly bad father or family man? In fact, didn't some of his mistake lead to more reaching tragedies that could've been avoided? But no...no one ever called Goku out on his bullshit...maybe that's why he never got better. Everyone waved it off as Goku being Goku and so Goku didn't see any reason to change.
Whereas Piccolo, Vegeta, Gohan and Krillin became better characters through making mistakes, growing from them and changing for the better...Goku more or less stayed the same and as a result, he got worst for everyone and especially for Earth. Which why he's well-earned his spot as my Number One Heroic Karma Houdini.
________________________________________________________________________________________
So what? Does that mean heroes can't make mistakes?
I never said that, but they should suffer and learn from them.
Suffering is an essential part of the human condition, it's what makes life so dynamic. Our flaws, our shortcoming, our oversights, our mistakes and our failures help shape us into stronger and more capable people. But that only works when the individual is confronted with their mistake and has to think about how they can do better for next time or sometimes failure was simply the only option.
Take C
atelyn Stark for example. She's a noble and loving mother, but has a clear flaw in how she unfairly mistreats Jon Snow for something that he has no control over and couldn't seem to get over it. Releasing Jamie Lannister also wasn't one of her smarter moves. But she clearly suffers for both actions because of how they drive a wedge between her and her son Robb. Ultimately, her mistake causes Robb's northern alliance to weaken and can be directly attributed as a factor of the Red Wedding where Jon and Catelyn lose their lives.
How about Bruce Wayne? His psychological issues and the hardships of his role as batman leads him to distance himself from friends and loved ones. When he retires, he's found in Batman Beyond as a stoic and lonely man accompanied only by a guard dog named after a little girl who died in his arms long ago. Watching his parents die when he was 8 scarred him for life and he made plenty of mistakes as Batman. But these only made him stronger since he dedicated himself to not allowing those mistakes to repeat themselves, that's why Tim Drake became a better Robin then Dick Grayson, because Batman learned from his mistakes with Jason Todd and how those led to his death.
Mordin Solus? Every time that Shepard had talked to him about his involvement in maintaining the Genophage, the salarian scientist defended his actions. In fact, Shepard has to convince Mordin to preserve the crude cure data of a colleague or he'll destroy it. By ME3, if pressed then he'll admit that he made a mistake and that's why he's willing to stand against Shepard and sacrifice his own life to ensure that the Cure for the Genophage is distributed to give the Krogan a future.
Mr. Incredible? Simba? Boromir? Siegfried? Ichigo? Urahara? Yusuke? Ash Ketchem? Part of what makes these characters great is that they messed up and realized it. They grew from the mistakes and became some of the great characters that we love them as. So no, I'm not saying that a hero shouldn't make a mistake.
All I'm saying is that they need to suffer for them in order to grow.
Later.